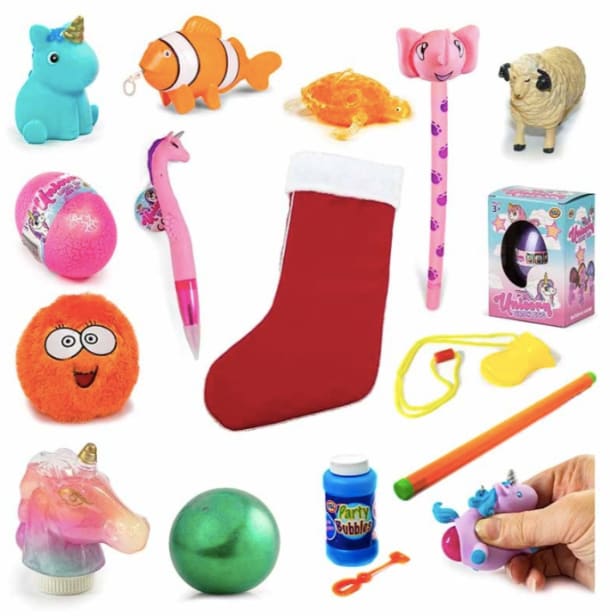 Young Girl Xmas Stocking
We have the perfect product designed to take out the stress of Christmas shopping for you! - Pre-filled Stockings! Inside this traditional red and white stocking is a collection of 15 toys that have been carefully selected to appeal to girls aged 3 and up. Each stocking comes sealed and ready to open as a surprise on Christmas morning. This item offers staggering value for money and is a huge time saver for busy adults and parents looking to buy stocking fillers.

That's the children's Christmas stockings sorted in just a single purchase - who can say no to that- Full list of stocking contents is below.
Traditional red and white stocking filled with:
Clockwork Swimming Fish
Unicorn Pen
Squeeze Beaded Turtle
Metallic Unicorn Slime Head
Groan Tube
Party Bubbles
Small Unicorn Grow Egg
Glitter Puffer Ball
6-inch Farm Animal
Squeezy Poo Unicorn Keyring
Inflatable Elephant Baton
Flash Floating Unicorn Bath Toy
Flash Unicorn Egg
Duck Whistle
9-inch Fuzzy Ball
3+